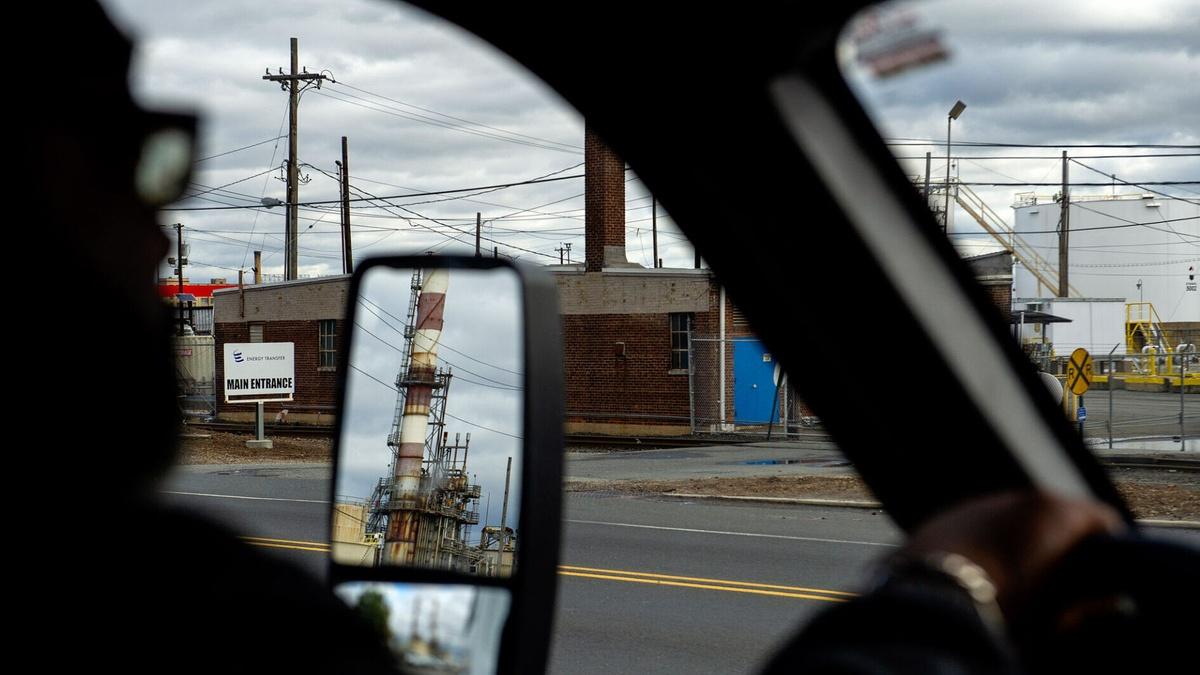 The Sacrifice Zone, a documentary by Talking Eyes Media, premieres Thursday, October 15 at 8 p.m. It will be followed at 8:30 p.m. by a panel discussion including NJ Senator Troy Singleton and Elizabeth Yeampierre, co-director of the national Climate Justice Alliance.
Of the entire United States, New Jersey has the most toxic sites on the Environmental Protection Agency's "Superfund" priority list: 114. Four of the Superfund sites are in Newark, which also has hundreds of toxic sites that don't qualify as Superfund. If you travel down a one-mile stretch of Doremus Avenue in Newark, New Jersey, you pass a natural gas plant next to a sewage treatment facility next to an animal fat rendering plant next to a series of ominous looking chemical storage containers behind acres of fencing. Airplanes pass overhead every two minutes, their engines rattling windows, while a putrid smell wafts from the open pools at the sewage treatment plant.
This stretch is known as Chemical Corridor, and it's located just down the road from schools and apartment buildings. It borders Newark's Ironbound neighborhood, where Portuguese, Brazilian, Central American and African American residents are separated from toxic substances by little more than a railroad track. An area of extreme environmental neglect like this is called a "sacrifice zone," and it is all too common that the people living in these unhealthy areas are low-income, immigrants, or non-white, or all three.
The Ironbound district of Newark, New Jersey, is the city's most populated area (approximately 50,000 residents) and one of the most toxic neighborhoods in the country. Maria Lopez-Nuñez, a Honduran-American resident there, is waging a war for environmental justice. The documentary The Sacrifice Zone follows Maria as she leads a group of residents who are fighting to break the cycle of poor communities of color serving as dumping grounds for our society's waste byproducts.
On September 18, NJ Spotlight News reported on a positive development for New Jersey's polluted communities. On that day, New Jersey Governor Phil Murphy Murphy signed legislation at a park in Newark's Ironbound district that requires the Department of Environmental Protection to evaluate environmental and public health impacts of certain facilities on overburdened communities.
"Today, we are sending a clear message that we will no longer allow Black and brown communities in our state to be dumping grounds, where access to clean air and clean water are overlooked," Murphy said.
"We don't want to be the canaries in the coal mine anymore," said Maria Lopez-Nuñez, deputy director of organizing at the Ironbound Community Corporation.
The broadcast of The Sacrifice Zone on October 15 will be followed by a half-hour panel discussion, with Lopez-Nuñez, New Jersey Senator Troy Singleton, and moderated by Elizabeth Yeampierre, co-director of the national Climate Justice Alliance.
"Julie's movie, I gotta say this, literally, when I got a chance to see it, I cried… There's nothing of more consequence that I've ever done in Trenton than this piece of legislation right here. There's literally nothing," says Senator Singleton in the discussion.
Learn more about the film and the issues on the official film website, The Sacrifice Zone.
The film will be part of the online Montclair Film Festival and can be screened October 17 through 25.
The WNET Group's three-day online conference American Cities Rebuilding, includes sessions on leadership and on October 15, features Maria Lopez-Nuñez during the 11 a.m. -12 p.m. hour on Moving Cities Forward: Leadership During Crisis (see schedule of conference events).