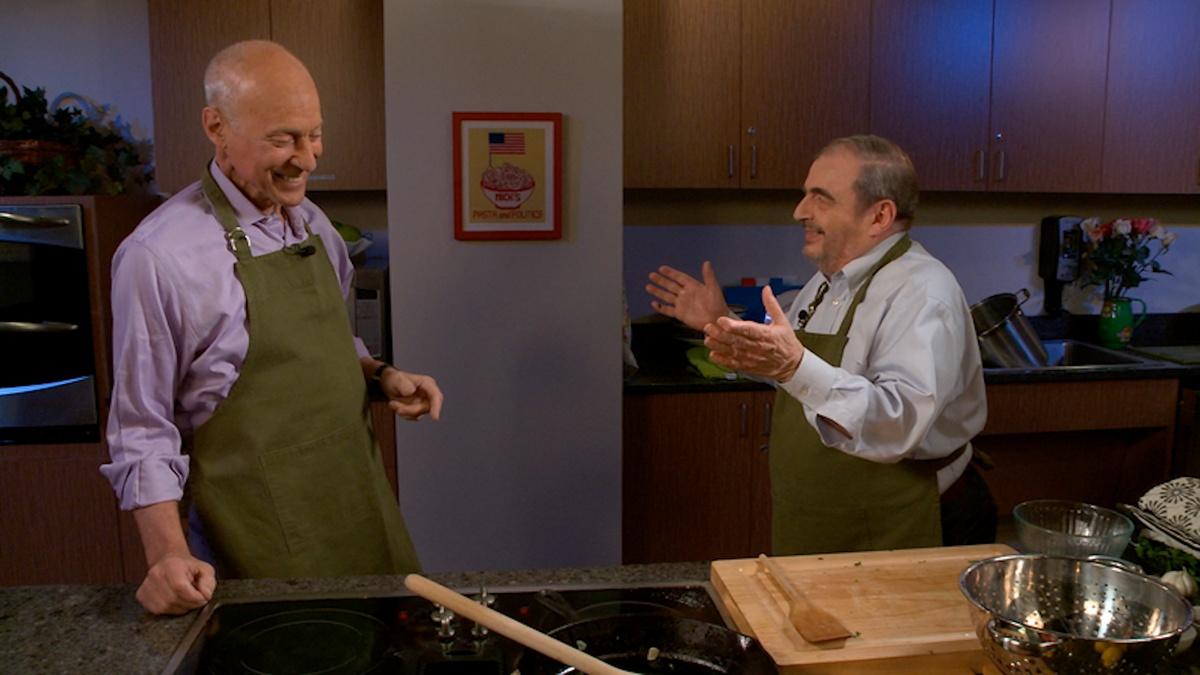 Stream the full episode, Dinner Table Democracy: A Look Back at Pasta & Politics with Nick Acocella
.
According to longtime New Jersey journalist and Politifax editor Nick Acocella, breaking bread—especially Italian bread— leads to better political and policy outcomes and humanizes politicians. That tactic inspired a unique kind of political program, the NJ PBS series Pasta & Politics with Nick Acocella, and humanized each of its guests over its five seasons. Nick welcomed politicians and other insiders into his kitchen to prepare their favorites meals and dish out their political perspectives.  "I love politics. I love pasta. The combination was inevitable," Nick said of the series debut.
Every interview captured a timeless, substantive discussion of life in New Jersey politics (and the food was delicious). Guests included then-Governor Chris Christie, Senator Bob Menendez, Senator Cory Booker, and former Governors Christie Whitman and Tom Kean, Sr. among many others.  Acocella passed away in 2020, but his legacy lives on in a new special:
Dinner Table Democracy: A Look Back at Pasta & Politics with Nick Acocella. 
It premieres Wednesday, June 16 at 8 p.m. on NJ PBS (check local listings).
The hour-long program, narrated by Nick's longtime friend and NJ Spotlight News Chief Political Correspondent Michael Aron, features memorable interview clips and provides entertaining and poignant commentary on what has changed in Trenton and in Washington, intercut with montages of the one-liners, Jersey-isms, cooking fun facts, and political zingers that made the shows so lively.  Read Aron's touching tribute to Nick upon his passing here.
"This tribute to the show demonstrates my dad's vision of what was so intriguing about what he lovingly described as 'this thing of ours,'" said Nick's daughter Francesca Rebecca Acocella, Esq. "Using moments from each of the twenty-six guests' interviews of this rare political talk show, Dinner Table Democracy highlights the show's thesis on the importance of civility in politics, which starts with sitting down at the dinner table together."
The show prompted numerous inquiries for its recipes from viewers, which prompted their posting on the Pasta and Politics video page.  For all of his culinary savvy, Nick was the first to admit that the one recipe he had not mastered was the making of a television show. "Producing a television show is a lot more difficult than I imagined," he shared in an interview. "I don't understand the technical stuff and needed really good people to get me through it. Perhaps one of the things that made it so difficult is that I resolved from the beginning that, unlike some television cooking shows, I would actually cook the food on camera and that, if I had to choose between it's looking good and it's tasting good, I would opt for taste."
And with Dinner Table Democracy, we all get a last taste from Nick's table.  As Francesca says, "This special enables all of us to have dinner with my dad one more time".